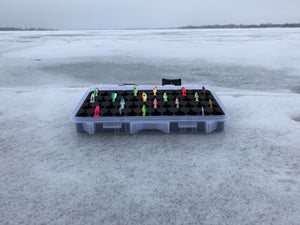 T3 Pro for the Ice
Tangle-Free Security
Spoons + Jigs
T3 Pro Jig Box
Back in Stock
stay organized
Lure Specific Storage
End "One Size Fits All" Tackle Boxes
We believe that "One Size Fits All" equipment leads to an average "One Size Fits All" fishing experience. Usually that experience involves trying to find the lure you want, trying to untangle all the lures from the one you want, and sometimes getting stuck by a hook. That's why we decided to make our tackle boxes as specialized as the anglers using them. The T3 Pro Series tackle box with patented Crank Cavity™ technology positions you to take that next step in your passion, all while leaving one less excuse of why the fish didn't bite.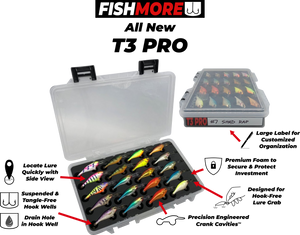 FILTER T3 OPTIONS BY APPLICATION
FILTER T3 OPTIONS BY INSERT TYPE OR TACKLE BOX SIZE
FILTER T3 OPTIONS BY LURE BRAND
FishMore Company is not endorsed or affiliated with any the brands listed above.
Does your current box do this?
No Tangled Hooks
Each lure and hooks are individually contained eliminating tangles
Also protects lures from hooks digging into them
Suspended Hooks
Hooks are suspended keeping your hooks drier
Drain holes in hook well allow water to drain out and easy lure drying
Form-Fitting Security
Don't get a box that limits how you can store your box and lures
Get the box specifically designed to hold your lure perfectly
Hook-Free Grab
Grab the lure without worrying about hooks from other lures or rubber bands holding the hooks together
Dry Lures Easily
Every hook well has a drain hole to keep your lures and hooks dry
Got water at the bottom of your box from a rainy day? Just pull the T3 Pro out for fast drying. Never take lures out one by one to dry ever again!
Always Organized
Requires no maintenance to keep your tackle boxes organized and efficient
Never worry about maintaining your tackle box again!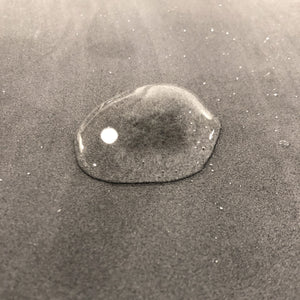 Benefits of Foam Construction
•   Repels water
•   Mold and mildew resistant
•   Absorbs impacts that would otherwise damage lures
•   Firm feel while still soft on lures and fingers
•   Securely holds lures in place while gently protecting the lure from the previous "normal" wear and tear inside a tackle box
•   No residue or odors left on lures
•   Super buoyant - just in case the box finds its way into the water